2022 ISSG Prize Winners Announced!
Congratulations to the 2022 ISSG Prize Winners and Honorable Mention Recipients 
Anja Chivukula (BC '22, Philosophy), winner of the 14th annual ISSG Women's and Gender Studies & 27th annual ISSG Queer Studies Awards for their winning essays,"'A College Issue': Depictions of Universities in Consent Education Materials", and "Handmade Trajectories: Embodiment and Failure in Anna Anthropy's dys4ia", respectively. 
Kyle Frank (CC '25, Undecided) winner of the 5th annual ISSG Feminist to the Core Essay Award for their winning essay, "A Magical Critique of Chivalric Homosociality: Queer Knights in Marie de France's Guigemar and Lanval." 
Mac Waters (CC '22, Music; Medieval & Renaissance Studies), honorable mention recipient of the ISSG Queer Studies Award for their essay, "The Castrated Castor: Emasculation and Chastity in the Medieval Bestiary."
Alexandra Volgyesi (BC '22, Women's, Gender and Sexuality Studies; History), honorable mention recipient of the ISSG Women's and Gender Studies Award for their essay, "Making 'Dyke Slope': Lesbian Feminist Organizing and the Emergence of Park Slope as a Lesbian Neighborhood."
We interviewed the students to learn more about their work and their plans for the future.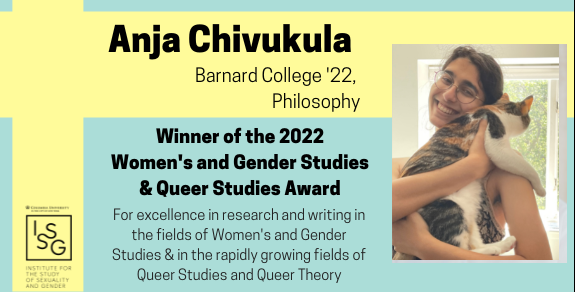 What inspired you to focus on your topic for your submission to the Women's and Gender Studies Award?
I wrote the initial draft of "A College Issue" in the fall of 2018, as part of Janet Jakobsen's seminar on Feminist Inquiry. At the time, I was a member of the survivor advocacy group No Red Tape Columbia, and I sought to articulate some of what I had learned about how universities so often fail to support student survivors of sexual violence. No Red Tape was frequently at odds with Columbia's Title IX office, and when we would meet with administrators to propose even minor changes we would often be met with open hostility. Many of these proposals were the kinds of ideas we might take as a given in women's and gender studies.
For instance, as of the fall of 2019, it was still Columbia policy to consider a participant in a sexual encounter displaying signs of physiological sexual arousal as part of the evidence in determining whether or not they gave consent. This goes against the extensive body of research on arousal non-concordance, which shows unambiguously that physiological arousal is involuntary and is not a reliable indicator of enjoyment of or desire for sex. Furthermore, questions about displaying arousal during an assault are deeply invasive and may be unnecessarily retraumatizing for survivors. After unsuccessfully trying to explain this to members of Columbia's Title IX office, No Red Tape released an op-ed detailing the problem with this policy. In response, Columbia chose to double down. To my knowledge, this remains part of Columbia's policy today.
This experience and an array of similar ones led me to become deeply skeptical of the university's Title IX office and its approach to the epidemic of sexual violence on campuses across the nation. That's why it was such a major revelation when Dr. Jakobsen's class introduced me to critical university studies. Learning that the university's orientation towards profit motives and prestige can incentivize it to undermine members of its own community helped me unravel a lot of the contradictions I saw in the Columbia Title IX office.
In "A College Issue", I focus in particular on the contradictions present in consent education materials. As I argue there, the university's motivations to sell itself to its students and distance itself from any connection to blame can be seen through a careful critical reading of the presentation materials. The result of acceding to these pressures, I argue, is that the presentations fail to acknowledge that universities are not only educational institutions, but are also communities, and that sexual violence is a pervasive harm which affects all members of those communities. And in seeking to motivate its student audience solely through legal obligation, the presentation—and the universities it was designed for—fail to address the emotional and interpersonal dimensions of effective sexual violence response.
What inspired you to focus on your submission to the Queer Studies Award?
Perhaps because of trans women's comparatively large representation in the tech industry, indie video games have come to be a staple of the community's artistic and literary production alongside zines, poetry chapbooks, and Medium essays. (For an example of a clearly literary video game, see Porpentine Charity Heartscape's Howling Dogs.) However, queer game studies remains a rather small field, and articles which give careful attention to video games made by trans authors are relatively few and far between. It is into this space that I produced "Handmade Trajectories" as a work of archival care. My aim was to shore up some small fraction of the work of internet archaeology and literary interpretation needed to preserve these important digital works by trans authors and to attend to understanding their essential value.
I chose Anna Anthropy's dys4ia as my subject of analysis because of contradictions I noticed in the controversies surrounding it. In some discussions, dys4ia had been criticized as not in fact qualifying to be a game, or having any aesthetic or ludic value at all. When authors in queer game studies would defend dys4ia, they would argue (rightfully) that these attacks were transphobic and misogynistic. But for all that dys4ia came up, I could only find one author (Noah Wardrip-Fruin) who treated dys4ia as valuable on its own artistic merits and not just for its trans author and autobiographical subject matter. Ironically, this dynamic mirrors how dys4ia was received when it became a breakout success: it was taken as an "empathy game", important solely because it communicated something essential about being trans.
My goal, then, was to both acknowledge the discourse which had long treated dys4ia as a slice of trans experience, and then to move beyond it. Integral to this process was Jeanie Vaccaro's notion of the handmade, which I took from Jack Halberstam's seminar on Queer Theory and Visual Culture. In the first section of the essay, I seek to analyze some of the game's inherent ludic and artistic value. I expand on Wardrip-Fruin's account of "semantic overloading" in the game to show that it creates a spellbinding interrogation of standard subject/object distinctions. Then, in the second section, I reject the normative, teleological account of transition which has been used to characterize the game and examine how its incorporation of surveillance and uneven power dynamics complicate this narrative.
How have you been able to integrate your interest in Gender and Sexuality Studies in the work you have done here at Columbia/Barnard?
I am thankful to have had professors who were supportive when I wanted to take leaps of faith in connecting topics like cognitive linguistics and speech act theory with my interests in women's studies. I also want to thank my mother, Elizabeth Simmons, for helping me revise the first drafts of those ambitious projects (and of the essays I submitted for these awards).
Outside of my coursework, I had the good fortune of meeting Isaac Jean-François in my sophomore year, who led me to join the que(e)ry collective for its inaugural year. I also joined No Red Tape Columbia and NYC for Abortion Rights, where I learned how to use the knowledge of feminist theory I was acquiring to actually push for positive change. Finally, I am endlessly grateful to have been able to learn in conversation with my peers at Columbia and Barnard, including the aforementioned Isaac, Claire Adler, and the inestimable Alex Volgyesi, who is a veritable well of knowledge on feminist theory and lesbian history.
         4. What are your plans for the future?
This fall, I will be starting as a doctoral student in philosophy at the University of Southern California. At present, my research interests lie in discourse analysis and pragmatics, and in their applications to critical social theory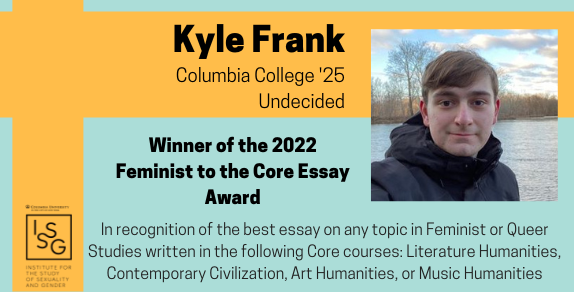 What inspired you to focus on your topic for this submission?
Conversations in my Literature Humanities class were the single most significant contributor to finding the focus of this paper. While reading Augustine's Confessions, various ideas surrounding the nature and appearance of homosocial relationships circulated our classroom. Once we reached The Lais of Marie de France, a text filled with a diverse range of chivalric relationships, Professor Crawford also encouraged our class to investigate the "specter" of same-sex desire throughout the lais. In turn, I was able to connect previous discussions surrounding homosociality with this queer subtext. The idiosyncratic perspectives of each of my classmates were consistently thought-provoking and constantly encouraged me to view what we were reading in a different light. Without them and the guidance of my professor, I would not have been able to write this paper. 
How have you been able to integrate your interest in women's studies in the work you have done here at Columbia/Barnard?
As a first-year, I have not taken any gender and sexuality studies classes, but there have been countless opportunities for intersectionality across the Core Curriculum. My University Writing class that focuses on human rights, for example, has given me the opportunity to read papers pertinent to gender and sexuality studies. 
What are your plans for the future?
At the moment, I don't have any concrete long-term plans, but I hope I can continue taking interesting classes that allow me to explore exciting and unfamiliar topics.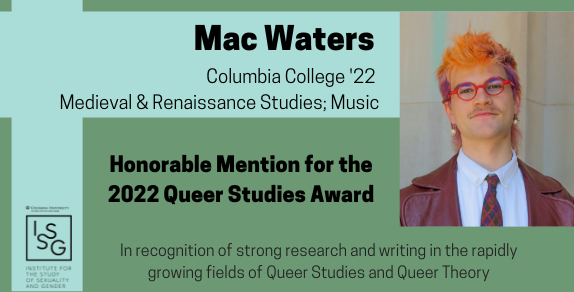 What inspired you to focus on your topic for this submission?
Last spring, I had the pleasure of taking Prof. Gregory Bryda's class Sin and Sodomy, an art history seminar for graduate and undergraduate students that focused on visual representations of sodomy and non-normative gender and sexuality in medieval Europe. When browsing digitized manuscripts in search of a final paper topic, I was immediately struck by the surprisingly explicit illuminations of self-castrating beavers in medieval bestiaries, and once I started digging further I just kept finding more and more extraordinary images. I've always been fascinated by pre-modern conceptions of the animal kingdom, and I knew that there were some incredible threads to be traced between the beaver's castration narrative and conceptions of masculinity and chastity in this period. 
How have you been able to integrate your interest in women's studies in the work you have done here at Columbia/Barnard?
Firstly, I have been so fortunate to have some incredible Core professors who have integrated Gender & Sexuality studies into their course curricula, so I'm incredibly grateful for that. I have also really enjoyed both of the courses I have taken about medieval queerness, including a French Literature course with Prof. Eliza Zingesser that has been an absolute joy in my last semester at Columbia.
What are your plans for the future?
After graduating, I am headed to Dartmouth College to pursue a 2-year Master's degree in Digital Musics. Through the open-endedness of the program, I am looking forward to more queer projects in my music and sound art practice!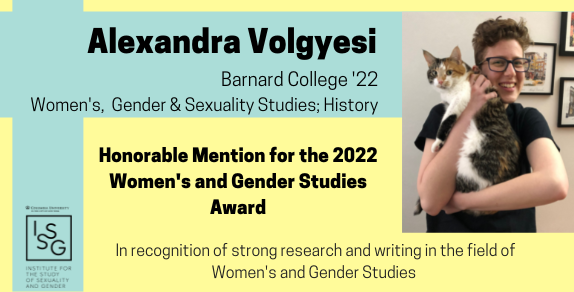 What inspired you to focus on your topic for this submission?
I am a coordinator at the Lesbian Herstory Archives, located in Park Slope, Brooklyn, where I manage the archive's giant collection of lesbian-feminist newspapers. When I first started working with the newspapers and began reading through them, I was overwhelmed by the amount of lesbian and feminist culture produced in the 1970's and 80's. There were calendars filled with political, literary, music, and social events hosted at dozens, if not hundreds of lesbian and women's bookstores, cafes, and community spaces. 
From talking with some of the women at the LHA, I knew that Park Slope was one of the hotspots for this kind of lesbian cultural energy. So it came with a great surprise when, taking Professor George Chauncey's class, "Sexuality and City," we read an article about lesbian Park Slope — and the article mentioned almost none of that culture! It argued that Park Slope's lesbian community was mostly "imagined" — I was scandalized.
In a fit of bitter lesbian rage, I went to the GALE Archives of Sexuality and Gender, the online database where much of our digitized collection lives, keyword searched "Park Slope," and found a barrage of hits. I took these findings and wrote a new lesbian history of Park Slope, using, to my knowledge, never-before published research on Park Slope's copious lesbian spaces, events, and organizations. I am currently continuing my work on this essay in an independent study with Professor Chauncey, where I'm finding, not only more culture, spaces, and groups, but just how fundamental these organizations were to the following decades of intersectional feminist thought, literature, and praxis.
How have you been able to integrate your interest in women's studies in the work you have done here at Columbia/Barnard?
It seems the more answerable question would be: how have I been able to integrate Columbia/Barnard into my absolute obsession with Women's, Gender, and Sexuality Studies? I worked as a research assistant for the Barnard Center for Research on Women on their 50th Anniversary virtual exhibit. I've combined WGSS with my interest in Soviet history, and have written about gender and sexuality in Soviet Russia and Eastern Europe. And I've had amazing philosophical conversations at Barnard/Columbia, especially with my dear friend, brilliant co-conspirator about all things WGSS, and loving cat aunt, Anja Chivukula. 
What are your plans for the future?
I will be continuing the MA portion of my BA/MA at Columbia University's Harriman Institute for Eastern European, Eurasian, and Russian Studies. In addition to that, I am excited to continue my passion for preserving and sharing lesbian stories.