ISSG Graduate Fellows are active participants in the ISSG community, coordinating graduate-focused events, like the ISSG Graduate Colloquium and Theory Salons.  Fellows also assist the ISSG Director and Associate Director, and the Directors of Graduate Studies and Undergraduate Studies with occasional research and administrative tasks related to the program. Fellows are paid $6,000 for the academic year (pre-tax) via casual hourly payroll.
Selection of ISSG Fellows is based on academic distinction in queer/feminist and departmental scholarly work, and a proven commitment to ISSG and its activities. ISSG Graduate Fellowships generally are awarded to PhD students who have completed, or are planning to complete, the ISSG graduate certificate. Please note that ISSG graduate fellows may not exceed 20 hours of work per week for all paid pursuits in combination while on a teaching fellowship, or 10 hours per week for all paid pursuits in combination while on a dissertation fellowship. 
For more information please email [email protected].
2024-25 ISSG Graduate Fellowship
The application cycle for 2024-25 Fellows will open at the beginning of 2024. 
Current ISSG Graduate Fellows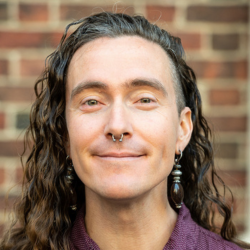 Nikita Shepard is a PhD candidate in the department of history at Columbia University, researching gender, sexuality, and social movements in the modern United States. Their dissertation traces the history of public bathrooms and political struggles over access to them from the New Deal through the present. At Columbia, their teaching has covered LGBTQ history, sexuality studies, social and cultural theory, and histories of data and surveillance. Their writings and reviews have appeared in The Washington Post, The Oral History Journal, Social History, Western Historical Quarterly, American Nineteenth Century History, Black Perspectives, Information & Culture, Reviews in Digital Humanities, RFD Magazine, Spectrum South, and the anthology Queer Data Studies (University of Washington Press, 2023).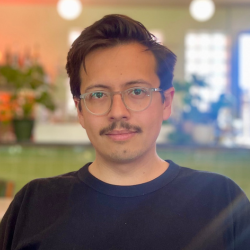 Connor Spencer is a Ph.D. candidate in the Department of English and Comparative Literature, where he is a co-convener for the Trans and Queer Theory Colloquium. His intellectual pursuits cluster around trans and queer theory, aesthetics, Marxism, critical theory, archival studies, the novel and narrative, and contemporary visual arts. He is interested in the role of typological thinking in 20th- and 21st-century queer cultural production, especially insofar as it mediates the means by which sexual subjects adjust to an incipient scene, imagined community, or sense of social possibility. Connor's previous research projects have covered artists that include Alvin Baltrop, David Wojnarowicz, and Gary Fisher, and he writes criticism for esse arts + opinions as a contributor. Outside of his role as an ISSG Fellow, Connor also serves as the Rapporteur for the University Seminar in Literary Theory. Connor received his B.A. in English and American Literature from New York University, and taught at a K-12 school prior to beginning graduate school. He warmly welcomes messages from students across the graduate division who are interested in the study of sexuality and gender at Columbia.
Previous ISSG Graduate Fellows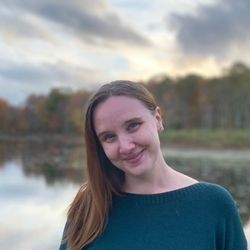 Mairead Hynes is a PhD student in the History Department, studying the comparative transpacific history of women's war mobilization and anti-military feminism in 20th century Japan and the United States. She focuses on how feminsits in both countries have understood and articulated women's war responsibility and complicity with empire, and investigates alternative feminist historical methodologies as they appear in movement practices of women's history. Before entering the Ph.D. program at Columbia University, Mairead graduated from the University of Connecticut in 2013 with a BA in History, and in 2018 earned her MA in Contemporary Asian Studies at Doshisha University in Kyoto, Japan.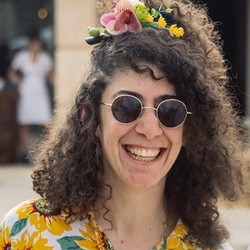 Elya Assayag is a history PhD student at Columbia University. Elya studies the seams between legal systems and society during the colonial period in Morocco (1912-1956), in addition to studying physical seams in the history of Moroccan embroidery. Through diverse methodologies, she tries to follow the day to day experiences of women and their surroundings that are absent from textual archives. Besides trying to figure out her academic path, she volunteers with refugees and asylum seekers, and tries to do something useful with the law degree she obtained a few years ago.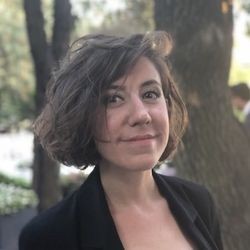 E. İrem Az
E. İrem Az is a Ph.D. Candidate in the Department of Anthropology at Columbia University. Irem's research is situated in a post-disaster coalmining context, in Aegean Turkey. Heeding the ongoing effects of the Soma Mine Disaster of May 13, 2014, she examines the links between socioeconomic vulnerability, embodied labor and political possibility within the local and global frameworks of reviving coal production, increasing social and health inequalities, and the consolidation of right-wing regimes. İrem received degrees in Political Science, Cultural Studies and Anthropology from Bogazici University, Sabanci University and Columbia University, respectively. Her past and present research and literary interests include military education and masculinities, queer activism in Turkey and the Middle East as well as hate speech, discriminatory discourse and extremism. She is also the author of a book of (ethnographic) poetry in Turkish, sade yaşadığımız [our sheer living] (Nod, 2020).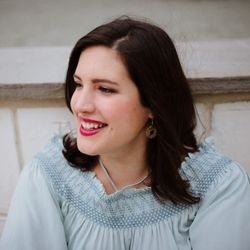 Gabrielle Ferrari
Gabrielle Ferrari is a Ph.D. candidate in Historical Musicology.  Her research explores death, the singing voice, and sexuality in British music after World War I, as well as the intersections between modernist literature and music in both the British Isles and the United States. Other scholarly interests include classical crossover music, opera, and art song.  She received degrees in English Literature and Music from Southern Methodist University, as well as a Master's degree from Columbia University. She performs in musical ensembles across Columbia University and Barnard College, where she serves as the producer and artistic director of the New Opera Workshop. In her spare time, she reviews operas across New York City for Parterre Box.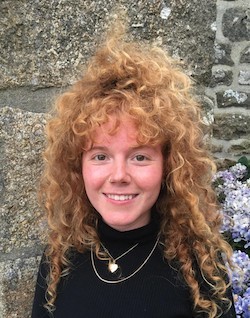 Mia Cecily Florin-Sefton
Mia Cecily Florin-Sefton is a 4th year PhD candidate in the English and Comparative Literature Department whose academic research sits at the interdisciplinary intersection of feminist science studies, disability studies, critical race theory and biopolitics. To be more specific, she examines shifting and evolving theorizations of individual plasticity, developmental discourses and representations of aging alongside their relationship to the long history of eugenics and the science of variation and difference. Before coming to Columbia, she was a Thouron scholar at the University of Pennsylvania and has also previously worked as a curatorial assistant at the Barbican in London; where she helped to curate an exhibition on contemporary feminist and queer science fiction. Prior to that she worked as a magazine editor for the National Association of Writers in Education. 
This year as a graduate fellow for IRWGS Mia is excited to explore new, virtual ways to cultivate solidarity and collaboration amongst the IRWGS graduate and undergraduate community; as well as advocating for the decolonizing of the curriculum, intellectual responsibility and feminist pedagogy. Alongside this mission statement she is also eager to create new opportunities for graduate workers to collaborate and share their works in progress.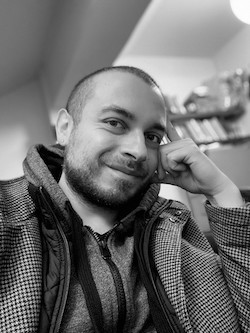 Alex Pekov
Alex Pekov is a 5th year PhD candidate in Slavic Languages and Comparative Literature at Columbia. He holds a BA in Philosophy (Moscow State University Lomonosov) and an MA in Slavic and Jewish Studies (Ruprecht-Karls-Universität Heidelberg). His dissertation-in-the-making, "Toward a Transmediterranean Genealogy: Matrilineal Legacies in Sephardi Women Writers from the Former Yugoslavia and the Maghreb," focuses on the autofictional family novels, crafted in French and Serbian by the women writers of Jewish Sephardi origin, born in the French-ruled Maghreb and ex-Yugoslavia, respectively. Applying a host of feminist and decolonizing reading and interpretive strategies, Alex studies these literary works as a linguistically diverse and translingual, geographically disconnected, largely untranslated into English, and hence virtually invisible archive of Sephardi women's writing. Alex's broader research interests include multilingualism and decolonization, genocide & gynocide, gender in writing, postmemory, queer diasporic lifeworlds, colonial and gay male physique photography.
In the 2020-2021 academic year, Alex will also be joining the CTL cohort of Lead Teaching Fellows in order to reflect on the many intersections of linguistics and feminist pedagogy—the topic that he started to investigate ever since he took the IRWGS Feminist Pedagogy class with Marianne Hirsch under the umbrella of the IRWGS Graduate Certificate. As an IRWGS Graduate Fellow, Alex hopes to serve as the Institute's ambassador across Columbia's departments, spreading the knowledge of the Institute's expertise and asserting the value of immersing in Women, Gender, and Sexuality Studies not only for one's research, but also for the authorship, ownership, and exploration of one's self. With the academic quotidian forced to migrate largely online for the foreseeable future, Alex is committed to being an agent of maintaining and mobilizing our community's intellectual exchange, co-presence, and togetherness in the virtual format—against and in spite of the disruptions and physical separations, caused by the current health crisis.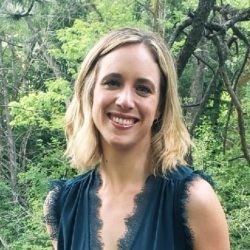 Diana Newby
Diana Newby is a 4th year PhD candidate in Columbia's Department of English & Comparative Literature. Her research sits at the intersection of 19th century literature, science, and affect theory, with a particular focus on old and new materialisms in the Victorian novel. Her dissertation project, "Passive Passions," examines Victorian writing—particularly women's writing—that challenged Western Enlightenment dualisms of reason/emotion, body/mind, self/other, and human/environment. Diana's tenure with IRWGS has helped her draw out important affinities that these 19th century reformulations of embodiment, identity and agency share with contemporary new materialisms and feminist and queer affect studies. Her goal is to bring together literary and theoretical archives that make possible a non-normative understanding of embodied subjectivity as passive and relational.
In her teaching, Diana is also committed to disrupting normative knowledge formations and centering issues related to feminisms, gender, sexuality, and the body. At Columbia, she has taught two sections of University Writing-Readings in Gender and Sexuality, and she has taught social justice-focused writing and literature classes at two women's colleges (Mills and Barnard). She has taken the IRWGS Feminist Pedagogy class with Marianne Hirsch, completed a certificate in Innovative Teaching at Columbia's Center for Teaching and Learning, and will soon fulfill the requirements for the IRWGS graduate certificate with a syllabus and bibliography on "Women Writing Bodies." When she isn't teaching, reading, or writing, Diana can be found running in Central Park, testing out new vegetarian recipes, or playing with her cat, The Bug.
As an IRWGS Graduate Fellow, Newby hopes to organize events that explore points of contact between queer and feminist theory and affect studies, building on existing Institute programming like the Bodily series. She is also interested in creating more opportunities for interdisciplinary collaborations between graduate students, faculty and visiting scholars, as well as exploring engagements with artists, writers and activists from beyond the academy.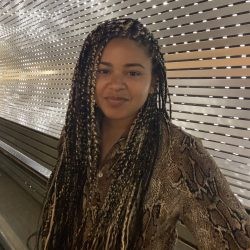 Tiana Reid
Tiana Reid is a sixth-year PhD candidate in the Department of English and Comparative Literature. Her dissertation uses what W. E. B. Du Bois called "world-work" as a jumping-off point to pay attention to gendered perspectives on accumulation, labor, reproduction, and imagination during the middle of the last century. In 2015, she was awarded a four-year doctoral fellowship from the Social Sciences and Humanities Research Council of Canada. Her writing has appeared or will appear in publications including American Quarterly, Bitch, Canadian Art, Feminist Formations, Flash Art, The Nation, The New Inquiry, The Paris Review, T: The New York Times Style Magazine, VICE, and Vulture. Former editorial assistant at Small Axe: A Caribbean Journal of Criticism, she has been an editor of The New Inquiry and a member of the editorial collective for Women & Performance: A Journal of Feminist Theory since 2017. She has presented her work at conferences including the American Studies Association, the Modern Language Association, and the National Women's Studies Association.
Reid holds a graduate certificate in Feminist Scholarship from Columbia's Institute for Research on Women, Gender, and Sexuality and taught the course she developed at IRWGS, "Hauntings: American Poetry in the 1980s," in Spring 2019. Most recently, Reid has been working on a new biannual magazine of gay communism called Pinko which launches Fall 2019. As an IRWGS Graduate Fellow, Reid is looking forward to continuing a feminist and queer study that distrusts what "woman" means and signifies, which is of course to also understand that the word indexes different things in different places, in different languages, and at different times.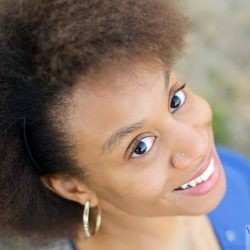 Noni Carter
Noni Carter is a historical and speculative fiction author and fourth year PhD student in the Department of French and Romance Philology at Columbia University. Her research focuses on Francophone (specifically French Caribbean) literature and art on memory, gender, and slavery. Her dissertation project entitled "in pursuit of science's fictions" turns to 17th and 18th century European Enlightenment experimentation on women of color to re-examine the development of the concept of the "human" in relation to the bourgeoning centrality of reproduction and the unfixed philosophies of race. She argues furthermore that contemporary science fiction (in literature, visual art, and performance) of the anglophone and francophone African diaspora aids us in working through these earlier "fictions" of science.
With Carter's work on gender and black radical feminist thought, and specifically through her tenure with IRWGS, has led to an understanding that, rather than being a field that singularly speaks to the concerns of women, feminist pedagogy and activism is more holistically a form of critical engagement. It continuously "seeks out fresh and marginal perspectives and constantly shifting the terms of the Academy in relation to our society." In the spirit of this vision, she is looking forward to mobilizing her skill sets to help maintain this "space of critical, cross-disciplinary, and innovative dialogue, and to bring to the forefront its importance to the University as a whole."
Carter enjoys playing piano in her free time, traveling to the French Caribbean whenever the opportunity arises, spending long, satisfying hours (and days!) with her family, and reading up on which new black "super" heroine is changing our world for the better.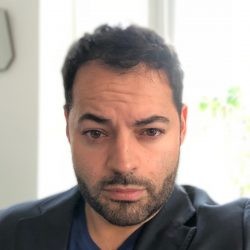 Daniel da Silva
Daniel da Silva is a 7th year PhD candidate in the Department of Latin American and Iberian Cultures. His research examines gender and sexuality through popular music and performance in Portuguese-speaking cultures and communities, attentive to their intersections with black and queer cultures of African diaspora and the unfolding iterations of trans in popular media across the Lusophone world. Silva credits his time in IRWGS for enabling him to "insert, as intervention, Portuguese-language repertoires of popular and queer culture into on-going debates and scholarship on gender and sexuality that often circumvent the Portuguese-speaking world." His work reveals affinities between trans and queer cultures from Angola, Brazil and Portugal with those of black and queer communities in North America and beyond. "From voguing to drag, hip-hop, fado, kuduro, and funk carioca, the archive I bring together is not limited to the Lusophone world but resonates with the history and contemporary cultural practices of African diaspora and global LGBT discourses."
As an IRWGS Graduate Fellow, Silva hopes to continue creating a space for encounter between African American studies, Latin American and Lusophone studies, and black and queer performance, history and activism. Silva has published "Unbearable Fadistas: António Variações and Fado as Queer Praxis," the JLS (Journal of Lusophone Studies, Vol 3, No 1, 2018: 124-147), while a second article, "Titica and Angolan Trans Formations," on trans subjectivity as it emerges in popular music in Angola, has been submitted to the Transgender Studies Quarterly. Silva had "the privilege of growing up in Newark, NJ, in a Portuguese-speaking enclave of a city with a rich and complex African American and LGBTQ history," and when he is not queering Luso-Afro-Brazilian studies, he plays as part of the progressive folk band Vovete.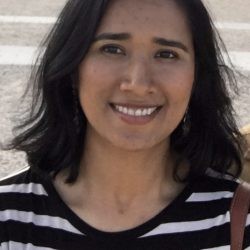 Syantani Chatterjee
Syantani Chatterjee is a fourth year PhD candidate in the Department of Anthropology. She has recently concluded her fieldwork in Mumbai, India. As a graduate student at Columbia, Syantani says she has primarily been interested in "how processes of embodiment interact with mechanisms of power." Her current research focuses on "what modes of life, endurance, and politics materialize amid exposure to almost imperceptible everyday toxicity in Mumbai's urban periphery." Syantani's master's thesis focused on commercial gestational surrogacy in India. Her concern was "to understand the manner in which the "perfect surrogate mother" is produced." Syantani says that she has spent many years in India politically mobilizing and organizing around the rights of marginalized and gendered labor. Thus, working at IRWGS will, she says, "be an extension of several political and intellectual commitments close to my heart." Syantani is a trained Bharatnatyam dancer (Indian classical dance), and considers herself to have been a professional dancer in a previous life. She has helped curate dance festivals involving dancers from India and the United States to perform in New York at Barnard, Columbia, and the Asia Society.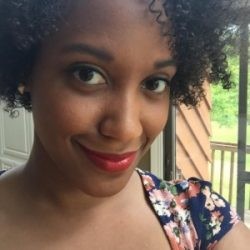 Erica Richardson
Erica Richardson is a seventh year PhD candidate in English and Comparative Literature. Her research explores "how black authors and intellectuals from the 1890s through the 1930s use aspects of sociology in their literary production as a means of representing black social life during a time of racial violence and constraint." Richardson explains that in her work "categories of gender and sexuality are central to defining and theorizing black racial uplift." Richardson hopes that as a graduate fellow at IRWGS she will have "the opportunity to cultivate a conversation about black women's agency, intellectualism, and symbolics within American political discourse that might benefit the IRWGS's community." According to Richardson, IRWGS has always been a place where she can let her thoughts "unfold, wander, and linger." Richardson said, "I hope in that spirit to encourage the broader Columbia community to really consider what feminist practice means to them as scholars, teachers, and activists." In the fall, Richardson will also serve as a Literature Humanities Preceptor in Columbia University's Department of Core Curriculum. When Erica isn't teaching or working on her research, she spends her time enjoying healthy Southern cooking (it does exist!), weight training, and making collages.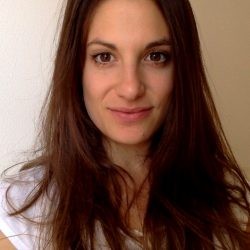 Alessia Palanti
Alessia Palanti is a fourth year, PhD candidate in the Italian department and ICLS. She is writing her dissertation on 21st century Italian women's cinema that focuses on women's lives from a female perspective. Her project traces the development of Italian feminisms and their place in the international landscape of feminist inquiry into gender and sexuality through an analysis of contemporary films.
Alessia's commitment to feminisms, and to issues related to gender, and sexuality reach beyond academia. She performs acrobatic movement and dance at Lava Studios in Brooklyn, NY, which is a feminist, gender-fluid arts space for individuals of all ages and abilities, committed to community building. She is also a consultant for UN Women's HeForShe Initiative, for a project that investigates gender bias in cinema. As a graduate fellow, Alessia is interested fostering further dialogue on the impact of media and representation on the forging of a gendered and sexed subjectivity, by including more media and arts-related events and conversations in the IRWGS program. She is eager to create more alliances with activists, artists, philosophers, and communities outside of academia to cultivate reciprocal intellectual and activist enrichment.
Leah Werier
Leah Werier is a fourth year PhD candidate in Art History, who focuses on 20th and 21st century art informed by feminist theory. She has recently completed an IRWGS graduate certificate. Leah has attended IRWGS events since she began studying at Columbia. She has also organized events in Art History with a focus on gender, including the program Works in Progress: Gender Stages // Staging Gender.
For Leah, being involved with IRWGS has been one of the "most enriching experiences for me" as a graduate student.  As a graduate fellow, Leah is interested in promoting IRWGS across different departments and growing the IRWGS community. She believes that "it provides a stimulating interdisciplinary meeting space for students and faculty. I look forward to organizing events that focus on the relationship between visual culture and feminist, queer and intersectional theory." Leah hopes to invite artists to present their work to students and faculty and engage with the academic community at Columbia.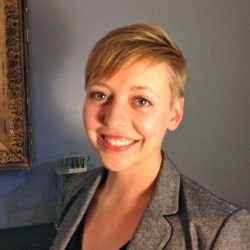 Liz Dolfi
Liz Dolfi, a fourth-year doctoral student in the Religion Department, has a strong background in gender studies. She has a B.A. in Women's Studies and an M.A. in Religion and Women, Gender, and Sexuality Studies. She has also recently completed her Graduate Certificate in Women's Studies here at IRWGS and was a TA for Professor Ciolkowski and Professor Jordan-Young's Intro to Women's and Gender Studies course this past semester.
Liz says she is "interested in developing workshops on research methods and prospectus writing that address the particular needs of students working across multiple academic disciplines." She also believes that "making feminist scholars more familiar with the critical language of religious studies is a politically urgent project, and critical studies of religion and secularisms are too frequently neglected in feminist scholarship."  As a Graduate Fellow, Liz hopes to invite to IRWGS guest lecturers who "explicitly engage questions about religion and are able to make these subjects accessible to students from other fields."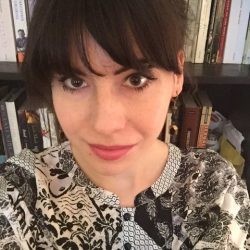 Victoria Wiet
Victoria Wiet, a fourth-year doctoral student in the English and Comparative Literature Department, has been a part of the IRWGS community since she started at Columbia.  Last semester she was a TA (with Liz) for Intro to Women's and Gender Studies, and she has also taught the Gender and Sexuality-themed section of University Writing.
As a graduate fellow, Victoria would like to "promote teaching in affiliation with IRWGS as a building block for teaching in one's home discipline." She also looks forward to developing pedagogical workshops and continuing to attend IRWGS events, which she says have provided "surprising points of contact between my work and those working in different disciplines and time periods."